The Buffalo Soldiers will present a program at the Kwanzaa Park Neighbors meeting on March 3, 2016 at 1:00 PM at Padua Center which is located at 1416 Nebraska Avenue. The Buffalo soldiers – Toledo are a modern progressive motorcycle club whose focus is to promote a positive image in the community and throughout the country.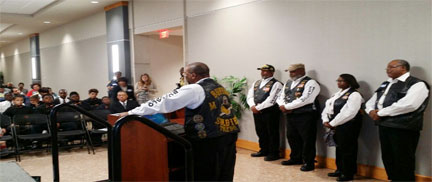 If you know anything about the historical Buffalo Soldiers, then you know that they received little recognition for their years of service on the frontier. The motorcycle club selected the name Buffalo Soldiers to pay homage to and ensure the legacy of African-American military contributions in the Post-Civil War era. The Buffalo Soldiers offer programs and scholarships for children throughout our community.
The monthly meetings of Kwanzaa Park Neighbors are both a block watch and neighbors meeting. During winter months, the meeting time changes to 1:00 PM. The April meeting will be on April 7, 2016 at 6:00 PM.
The general area of Kwanzaa Park is from Dorr Street to Hawley to Campbell to Brown, but all are welcome. Padua Center features a handicapped ramp and is accessible. The Center will serve refreshments. For information please call (419) 241-6465.