When: October 8, 2017
Where: Sullivan Center at Gesu
2049 Parkside Blvd
Toledo, Ohio 43607
Contact: thepaduacenter@gmail.com
(419) 241-6465
Suzette Cowell will be honor with the Padua Promoter Award at The Padua Center's annual Peaces of Art celebration on Sunday, October 8, 2017 at the Sullivan Center at Gesu, 2049 Parkside Blvd. Toledo, Ohio. Along with Ms. Cowell, Padua Center will honor the Knights of Columbus Council #386 with special recognition of Eric Lyons, Grand Knight and Martin Porter.
The Peaces of Art celebration recognizes persons in the community whose work and volunteerism have made a difference to the lives of people in the central city of Toledo.
Suzette Cowell is CEO of the Toledo Urban Federal Credit Union. She was one of the original founders of the Credit Union and recently celebrated the opening of a new building on the corner of Detroit and Dorr Streets. The TUFCU also sponsors the African-American Parade and Festival.
The Knights of Columbus, Council #386, specifically Eric Lyons and Martin Porter will receive the Volunteer Award. They give many hours of service to the work of Padua Center, especially preparing the dinner for the Urban Chicken Fest, held at Padua Center each summer.
The keynote speaker for the evening will be Rev. F. Anthony Gallagher, retired priest of the Diocese of Toledo. He retired from assigned diocesan ministry in June 2009 and, subsequently, has tried to be an active supporter of women religious, Africa-American, Muslim, Latino and inter-faith efforts locally. Father Gallagher is active in marches, presentations, rallies and civic actions to support the rights of minorities. He has been a consistent supporter of Padua Center and last summer his donation provided a Bounce House for the children at the Urban Chicken Fest.
Padua Center is expecting nearly 125 people to attend the celebration which features a silent auction of items including visual arts, produce grown and processed at Padua Center, baskets of various interests and tickets to various restaurants and venues throughout the city.
The main feature of the evening is the live auction of artwork created by Padua Center children. The artwork showcases the artistic talents of the children and the results of an Art Camp, one of eight free summer camps at Padua Center, which involves children from grades K-8.
The band, "Straight Up" will entertain while the guests enjoy a dinner.
Padua Center volunteer Katera Harris will be the Mistress of Ceremonies sharing her responsibilities with Serenity Henry, Frankie Burnside and Grace Bell, young ladies involved in Padua Center for several years, volunteering and attending camps.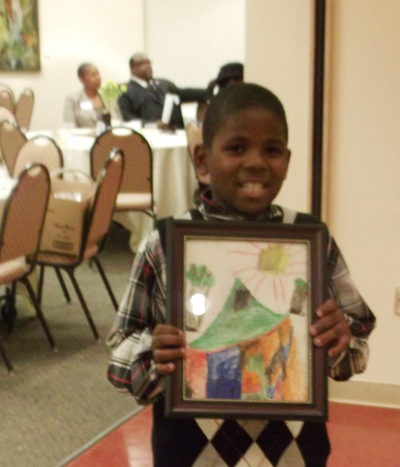 The fundraiser supports the work of Padua Center, specifically the Padua Possibilities Program (an alternative to suspension for children from grades K-6), the Restoring Possibilities Program (a program for expelled grade school children), the Padua Potters Garden Club, the Kwanzaa Park Neighbors, and the Ujima Urban Agriculture Program.
For more information, please call Sister Virginia Welsh at (419) 241-6465.
Save
Save
Save
Save
Save
Save
Save
Save
Save