Padua Center needs tutors throughout the year. During the summer, the Center provides tutoring Monday through Thursday from 9:00 AM until 2:00 PM. The Center serves lunch each day for participants.  During the school year, Padua offers tutoring Tuesday through Thursday from 2:45 PM -5:00 PM. The Center always welcomes volunteers.
Each month there are special activities for the children on Tuesdays and Thursday after school. Some of the activities include: chess, crocheting, gardening, and cooking.Please call for more details.
Padua Center is always looking for volunteer counselors for summer camp. Please call the Center for information on each camp. The Center provides training and requires a background check.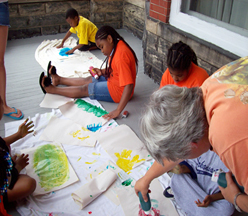 Painters: We need painters to paint several rooms.
Carpenters: We need carpenters for small projects and repair work.
Hospitality: If you can provide hospitality on Monday, Tuesday, Wednesday and/or Friday every week the Center needs your help. Please commit to one day per week.
Clerical Work: We need clerical workers to answer phones and perform data entry at anytime.
Cleaning: We need cleaning volunteers.
Interior Decorator: If you are interested in helping the Center decorate, please give us a call.
Donations Needed
Adopt a Room
Prizes for children
Paint
Playground equipment for children (balls,etc.)
School supplies
Office supplies
Paper (clean or used on one side)
Computers